Accelerate The Creation of Immersive Training
VE Studio® is the world's most proven development platform for creating 3D virtual training solutions and is one of the best custom virtual and augmented reality application development service providers.
Immersive Commercial & Military Training Applications
Create complex and immersive commercial and military training applications with the ability to deploy to a multitude of devices.
VE Studio®'s features enable you to rapidly prototype and scale your training across an enterprise quickly and cost-effectively.
Inquire now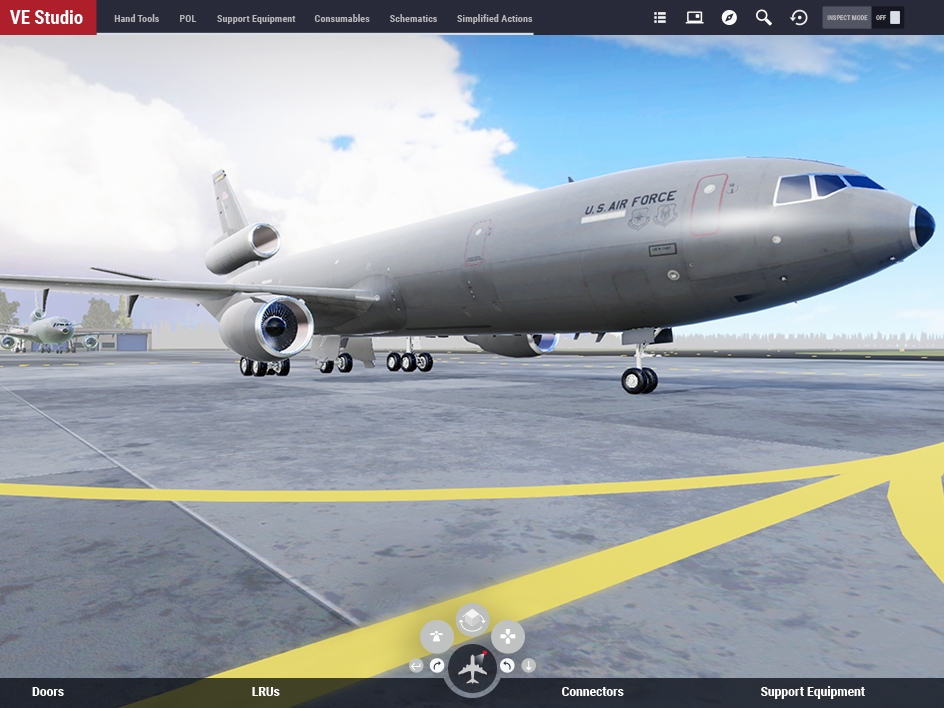 Virtual Maintenance Training
Virtual Operations Training
Field Service
Mobile Refresher
Equipment
Familiarization Training
Guided Field Services Augmentation
Safety Training
Develop Training Solutions for Any Device
With VE Studio® software, you can take advantage of the latest developments in augmented reality, virtual reality, desktop, mobile, and cloud technologies.
Inquire now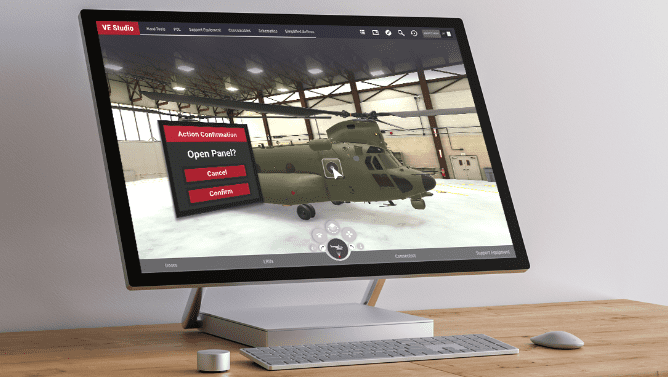 From Prototyping to Full-Scale Solutions
Build a virtual training prototype in a few hours then scale it to a full production system with thousands of procedures.
The architecture of VE Studio® allows rapid prototyping and iteration. VE Studio® is robust enough to handle the simplest part task trainers and the most complex equipment such as aircraft and weapons systems.
VE Studio® Development Features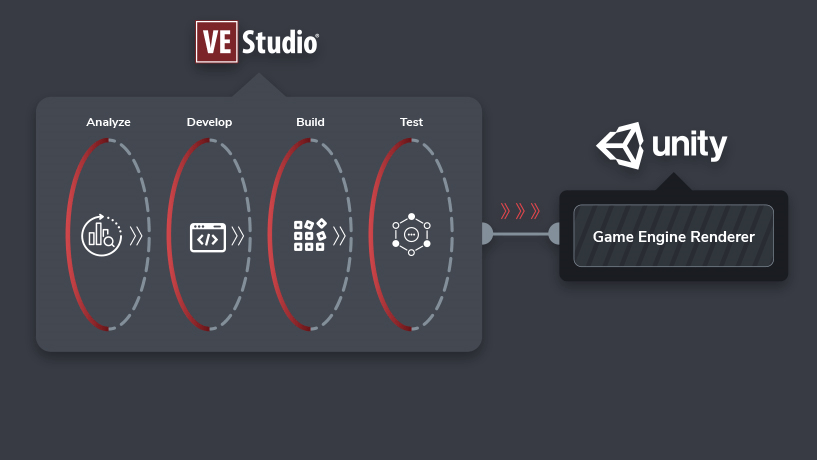 Database-driven production pipeline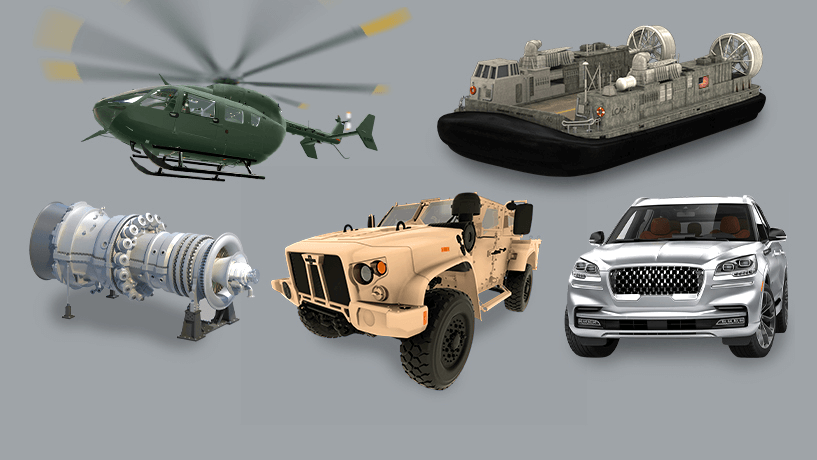 Use industry standard 3D models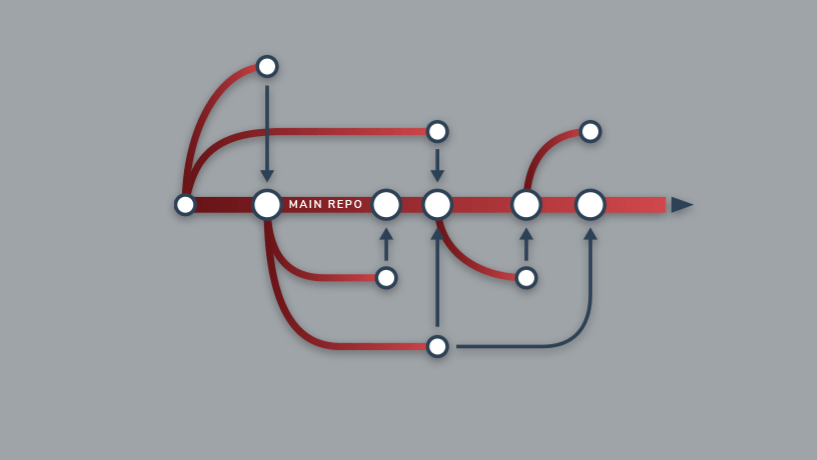 Revision control support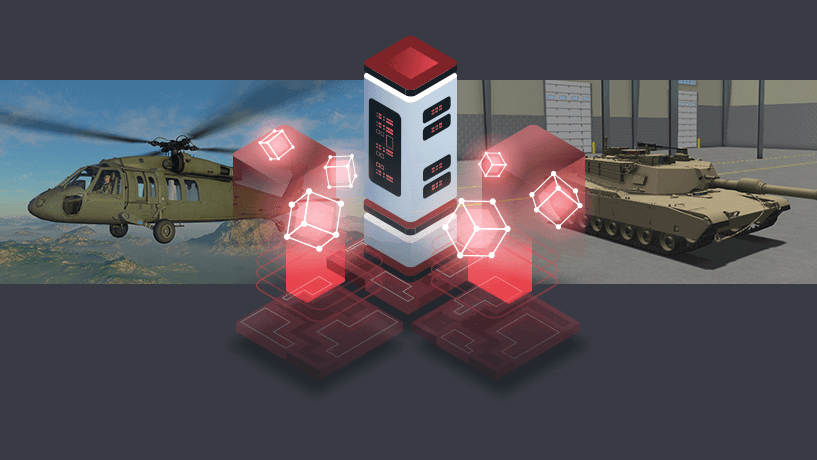 Virtual environment framework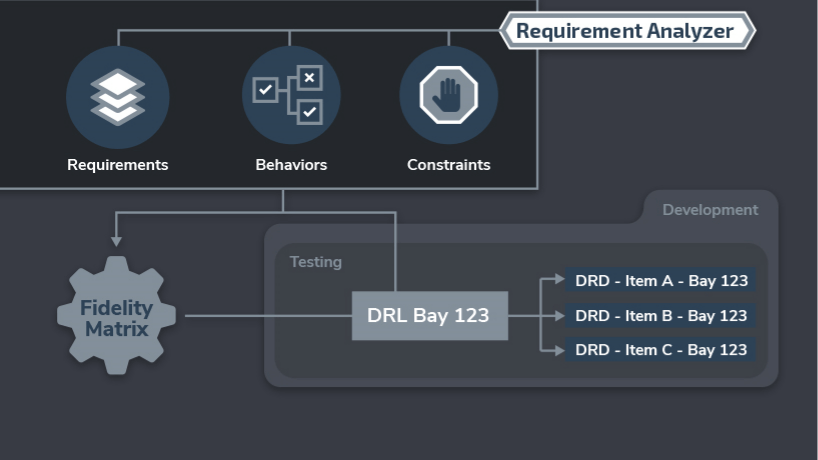 Automated requirements analysis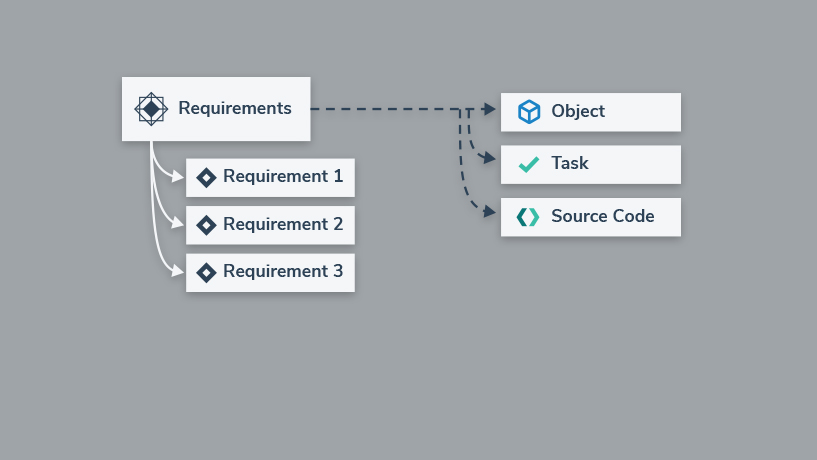 Requirements traceability
VE Studio Development Process
VE Studio® is unique in it's process and tools for gathering and converting content
while giving users full control over lesson authoring and content creation.
Outcome-based Training
Gather Student Training Requirements.
Gather Source Content.
Requirements Analyzer pulls job procedures and auto-populates the Fidelity Matrix ™.
Students can start their training with this newly created VMT. If any changes arise, the Fidelity Matrix™ makes updating content a breeze.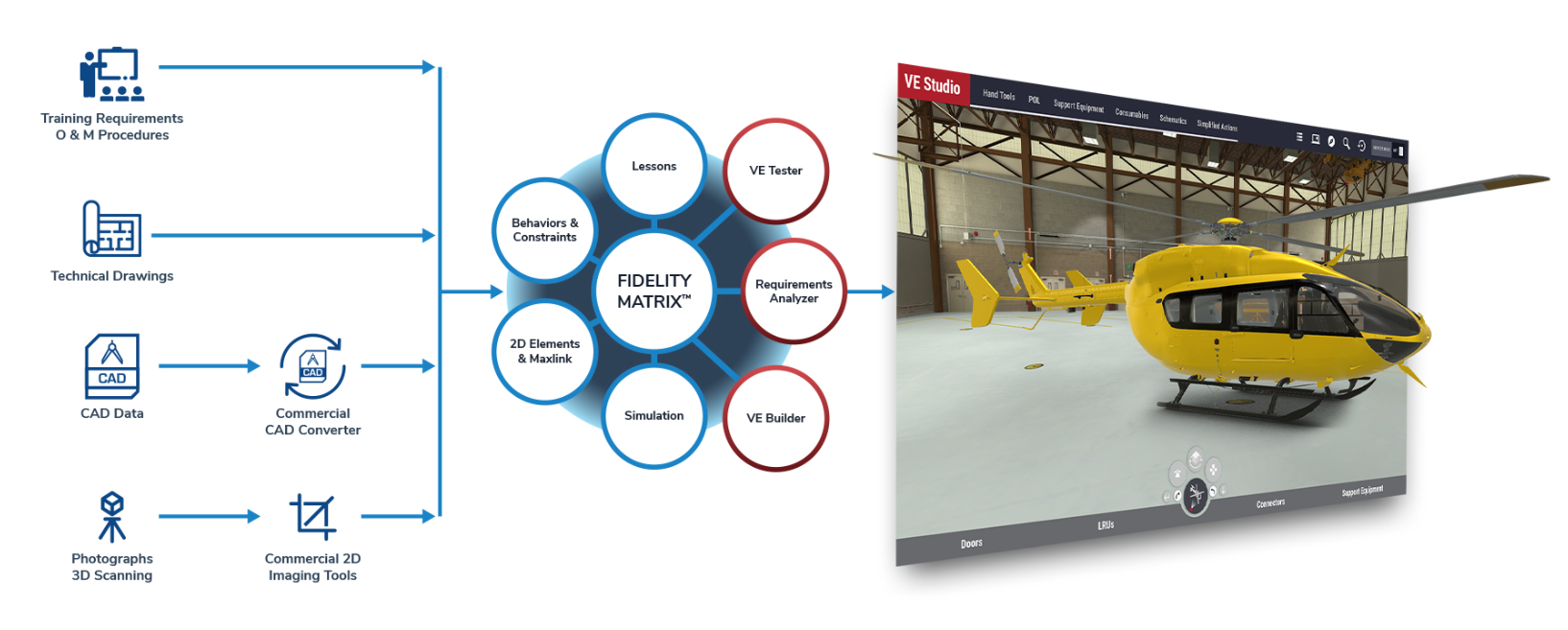 Integrated Unity Production Process
Go Beyond The Game Engine
VE Studio extends the capabilities of Unity by providing functionality necessary to develop complete training
solutions. This integrated production process allows VE Studio to leverage the world's most popular real-time 3D
development platform to create immersive projects.
Development Features

Using Unity Alone

VE Studio and Unity

Automated Build Tools
Use Industry Standard 3D Models
Built-in Revision Control Support
Database-driven Production Pipeline
Virtual Environment Framework
Automated Requirements Analysis
Requirements Traceability
Additional
Functionality &
Modules
Optimized CAD Conversion Recipes
Simulation Engine Framework
Procedure Monitoring/Lesson Engine
Instructor Operator Station Application
Student Station Training Application
Intelligent Tutoring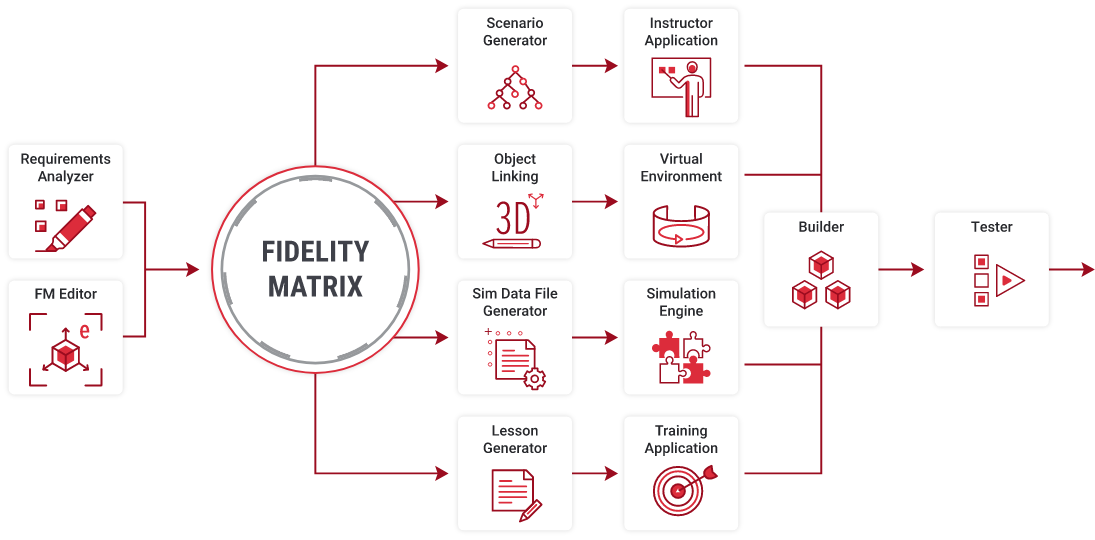 The Fidelity Matrix™
The foundation of VE Studio® is a relational database core called the Fidelity Matrix™ (FM). This user-friendly database contains all requirements, 3D objects, 2D support equipment, environmental properties, behaviors, and constraints.
The automated environment build and regression testing tools draw from the Fidelity Matrix™ to construct and check the final environment.
Inquire now
VE Studio® Insights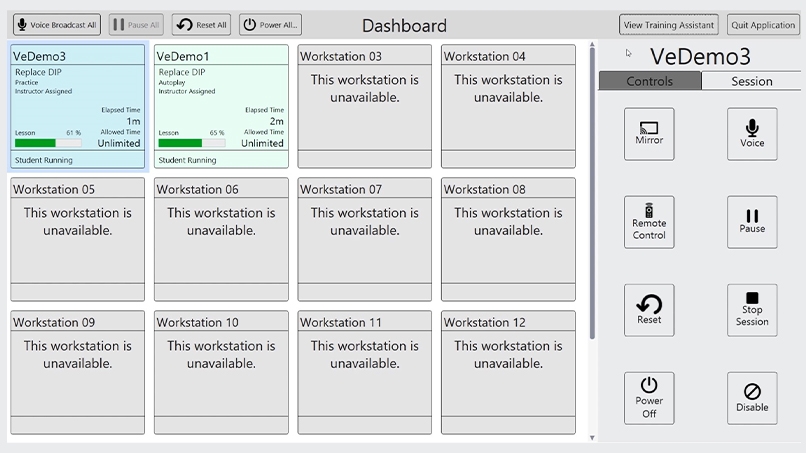 Virtual Training System Development Tools
As a commercial off-the-shelf solution – VE Studio includes powerful productivity tools and processes needed to deliver any virtual training project you have in mind today or in the future
View Virtual Maintenance Tools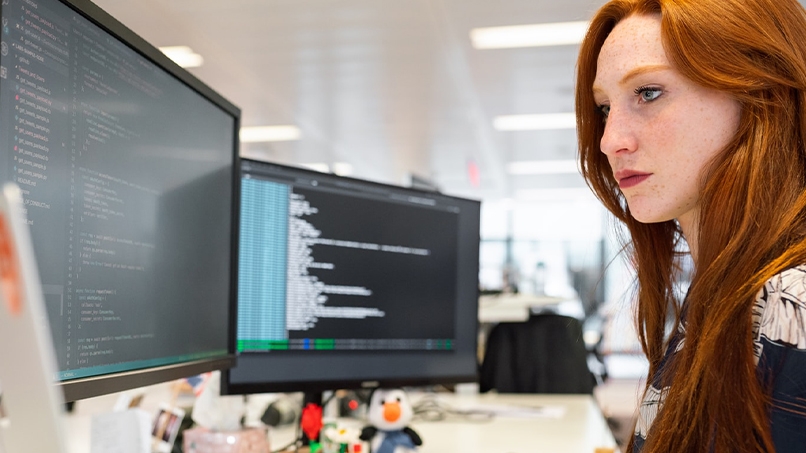 Why VE Studio®
VE Studio® provides value at every level, benefiting Program Managers, Software Engineers, and Content Developers.
View Benefits
Comparing two development teams working on the same project
Team A
Without VE Studio®
This development teams requires more resources, costing projects time and money.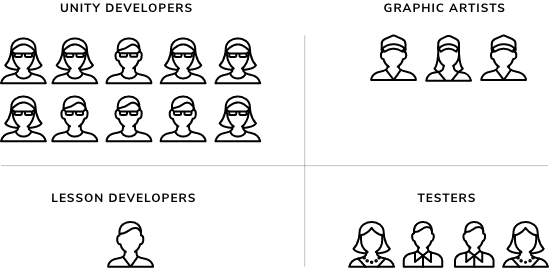 Team B
With VE Studio®
The development team can be small and lean, delivering cost-effective, optimized results.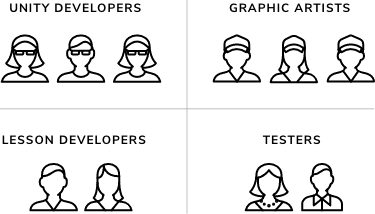 The Future of Training
VE Studio® Pioneered and Leads the Virtual Maintenance Training Industry
VE Studio® leads because of its proven database architecture, development
processes, and productivity tools, available to customers right out of the box.
VE Studio® combines development workflow best practices with innovative
tools and components that make building complex virtual training applications,
easier, faster, and less expensive.
Publish the APP and Deploy
Message Manager
Communicate with all VE Studio runtime applications to keep individual and classroom systems in sync. Third-party tools can also hook into the networking system via a robust API.
Manage Variants
Manage the development and deploying variants within the same project and database, reusing as much as possible within a project.
One-Button VR Deployment
Create desktop and Virtual Reality solutions simultaneously, reusing the same lesson and 3D content. Switch from one to the other during development through a simple dropdown.
Localization
Deliver training solutions worldwide in native languages from a singular deployment.
Inquire now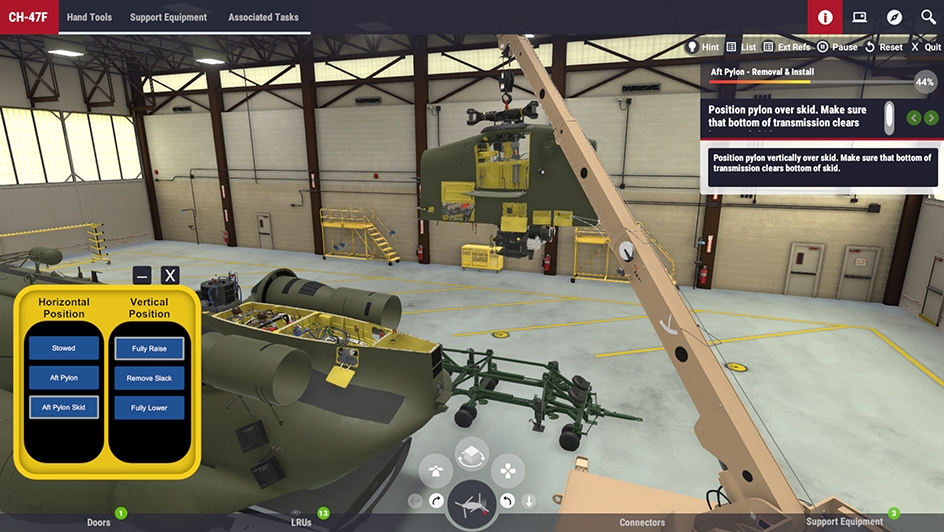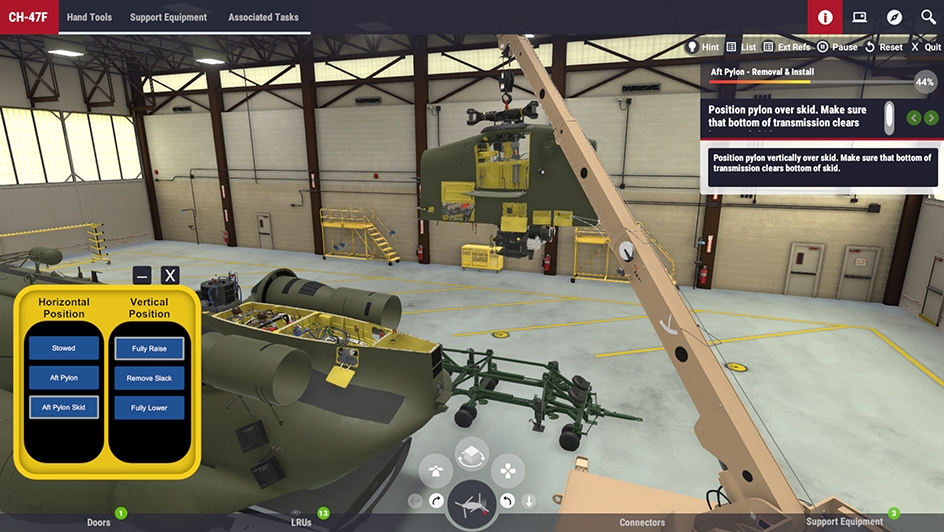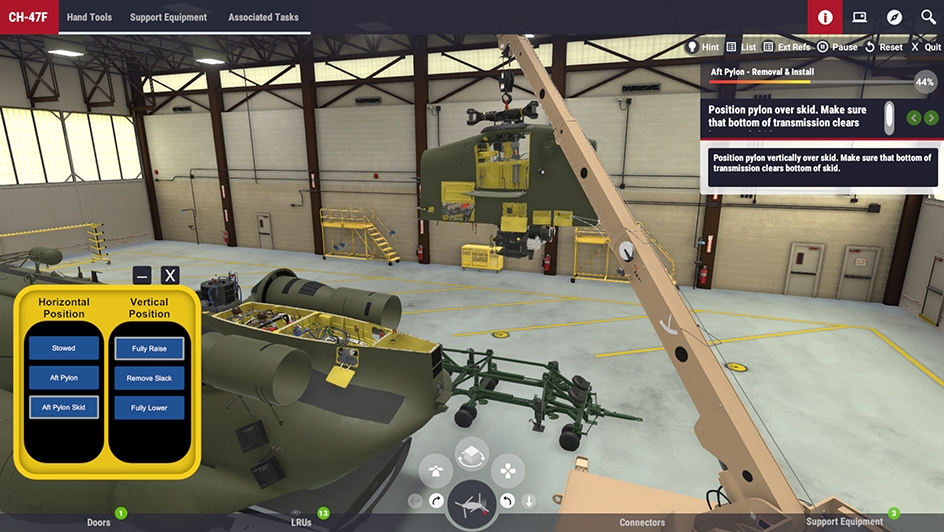 Proven by Our Wide Network of Partners












Inquire about VE Studio® today
Start your developer journey with VE Studio® now.
We will use your information to respond to your inquiry. We may also contact you about our products and services. You may opt-out at any time using the unsubscribe link in messages you receive from us. You can learn more about how we handle your personal data and your rights by reviewing our privacy policy..