For DISTI logo use, review the DiSTI® Logo guidelines in this condensed pdf here.
Company Facts
---
Years
DiSTI has been a global leader
for over 25 years.
Countries
Our software can be found in
projects in over 45 countries
Projects
Our experienced team has delivered
thousands of projects to satisfied customers.
Quotes
We remain fully committed to strengthening our capabilities and those of our customers. We are confident that we can continue to exceed the expectations of those we conduct business with by carefully considering their respective interests.
John Hayward
Chief Executive Officer
DiSTI was founded on the belief that technology innovates learning and improves efficacy. For over 25 years we have remained committed to pushing the boundaries of what has been thought possible in the realm of simulation and training.
Joe Swinski
President
At DiSTI we approach each project by examining what has been done before, what new technology and techniques are available, and most importantly the specific needs of our customers. Together as a team of engineers and innovators, we determine the best approach to meet and exceed our customers' expectations.
Chris Van Duyne
Chief Engineer
*Proper spelling for "DiSTI" should contain all uppercase letters except for the first "i".
Non-Profits and Volunteer Involvement
---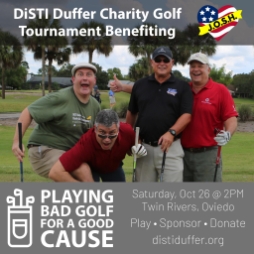 The DiSTI Duffer is a Charity Golf Tournament, open and available to the public, with the purpose of raising funds to support K-12 STEM education.
Inquire about our professional solutions today.
Start your developer journey with our solutions now.
We will use your information to respond to your inquiry. We may also contact you about our products and services. You may opt-out at any time using the unsubscribe link in messages you receive from us. You can learn more about how we handle your personal data and your rights by reviewing our privacy policy.