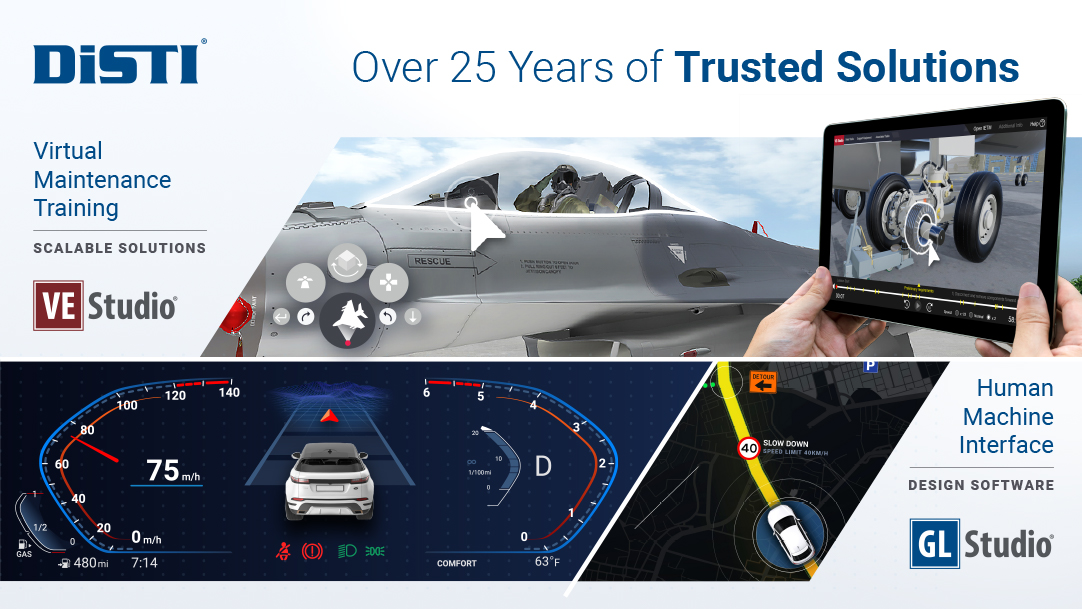 Despite Global Pandemic The DiSTI Corporation Enjoys Record-Breaking Year
Mon, November 16, 2020 01:35 AM EST
Anchored by a series of awards from the U.S. Army for its Family of Maintenance Trainers (FMT) program and several significant awards as a subcontractor, the company has seen its defense business continue to grow. Guided by new CEO John Hayward, who joined the company in June, DiSTI has benefitted from its focused commercial development work and sales strategy for both its GL Studio® and VE Studio® product lines.
"We continue to focus on growth in the training domain, but are finding some exciting opportunities in the industrial and automotive segments for our technology," cites Hayward. "Our business is people, and we are focusing on hiring the best people, giving them challenging assignments, and promoting employees from within to build a sustainable and growing organization. Companies are now seeing the massive benefits that virtual training and the cost-savings of our HMI software tools can provide."
The company has released several new features and products this past year that have helped customers navigate the challenging times. These include:
With worldwide customers and partners in Aviation, Automotive, Industrial, Electronics, Power and Energy, and the Defense sectors, DiSTI has seen first-hand the positive impact that its remote training solutions can provide for organizations. Businesses are looking at decentralized training platforms as a way to reach employees regardless of their location.
If you would like to learn more about DiSTI solutions, and how our products can enhance the productivity of your organization, contact us today at Sales@DiSTI.com
Inquire about our professional solutions today.
Start your developer journey with our solutions now.
We will use your information to respond to your inquiry. We may also contact you about our products and services. You may opt-out at any time using the unsubscribe link in messages you receive from us. You can learn more about how we handle your personal data and your rights by reviewing our privacy policy.