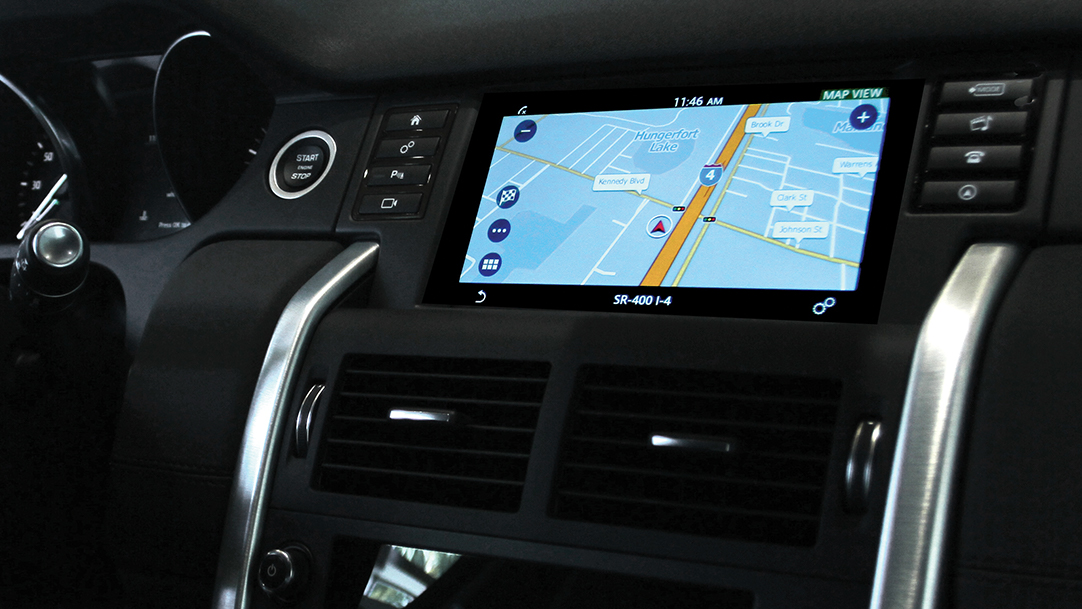 GL Studio® Delivers UI development to Jaguar Land Rover
Tue, June 01, 2021 17:03 PM EST
Goal:
Enable Jaguar Land Rover to create their InControl® Touch Pro™ infotainment and rear-seat entertainment system interfaces in-house.
Embedded into the Jaguar's touch screen infotainment system, GL Studio® served as the user interface layer for the unit.
Challenge:
The InControl® Touch Pro™ display needed to allow the users to manage functions such as climate control, audio, communications, navigation, and enable users to customize their home screen wallpaper and create personalized widgets. Allowing this functionality decreases driver distraction and maximizes the user experience."
Solution:
Designed to minimize driver distraction and maximize the user experience, the intuitive and straightforward InControl® Touch Pro™ featuring GL Studio® enables the touch screen display to respond to familiar 'pinch to zoom' and 'swipe' gestures to provide ease of use for drivers. The highly responsive interface comes from GL Studio®'s native object code generation and the fastest runtime software in the industry, in addition to the units Quad-Core Intel Processor and the 60GB SSD. The full-screen navigation display improves the line of sight to allow drivers to focus more on the road.
DiSTI worked with automotive industry leaders to deliver this revolutionary system. After a highly competitive yearlong evaluation process, Jaguar Land Rover adopted and standardized on DiSTI's GL Studio® toolkit for its unmatched performance, rapid support, and ability to produce feature-rich high quality 3D embedded applications. Strategically crafted to successfully meet or exceed internal design demands, Jaguar Land Rover implemented the use of GL Studio® company-wide for all embedded HMI prototyping and production target infotainment systems.
About GL Studio:
Leading OEMs and Tier 1 suppliers use GL Studio to create cutting-edge graphics for digital clusters, HUDs, and IVI solutions. GL Studio® has supported over 40 different Arm-based target systems with adoptions by companies such as Boeing, GARMIN, GE Transportation, Hyundai Mobis, Jaguar Land Rover, Lockheed Martin, NASA, Northrop Grumman, Raytheon, and The Spaceship Company. GL Studio® can be ported to any OpenGL based target system.
GL Studio Benefits:
80% FASTER TIME TO MARKET
6X BETTER RUNTIME PERFORMANCE
50% LESS CPU UTILIZATION
HIGHEST CODE RELIABILITY
FIRST UI TOOL TO ACHIEVE ASIL D
500MS OR LESS UI STARTUP TIME
ABSOLUTE DESIGN FLEXIBILITY
LOWER LIFETIME PROGRAM COSTS
Automotive Applications:
JAGUAR XJ
JAGUAR XF
JAGUAR XE
JAGUAR F-PACE
JAGUAR I-PACE
JAGUAR E-PACE
LAND ROVER DISCOVERY SPORT
LAND ROVER RANGE ROVER EVOQUE
LAND ROVER RANGE ROVER
LAND ROVER DISCOVERY
LAND ROVER RANGE ROVER VELAR
RANGE ROVER SPORT
Inquire about our professional solutions today.
Start your developer journey with our solutions now.
We will use your information to respond to your inquiry. We may also contact you about our products and services. You may opt-out at any time using the unsubscribe link in messages you receive from us. You can learn more about how we handle your personal data and your rights by reviewing our privacy policy.